In this article, we will see how to solve "You're offline. Check your connection." youtube error if you are also getting this in your System. It is always a very awful experience when you are trying to access youtube to watch some fun or important video and suddenly you got hit with "You're offline. Check your connection." youtube error. The error is as such that it could happen with anyone and pop up at any point of time. At that point of time, all you can do to access the video is to solve the problem. Here I have brought you the most effective solutions to deal with this problem.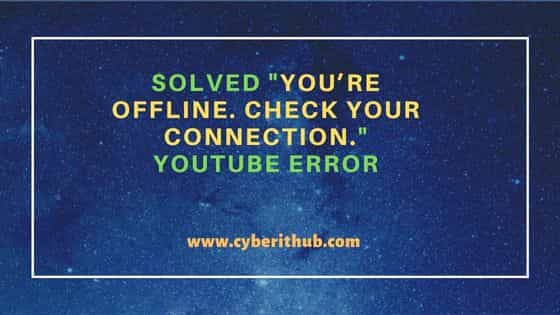 Solved "You're offline. Check your connection." YouTube Error
Also Read: Solved "xbox error code 0x87e11838" [5 Effective Ways to Fix]
Solution 1: Check Network connection
Whenever you see "You're offline. Check your connection." youtube error on your web browser, the first and foremost thing you need to check is your Network connection. You need to make sure internet is allowed and active in your System from where you are trying to access.
If you're system is getting IP from DHCP server then make sure you have the ip assigned to your System. Sometimes system fails to get an IP from DHCP server due to which internet would stop working in the system. In those cases, you can first restart your network connection and see if it helps otherwise you need to restart your network adapter as well to see if this is the way it has to be done.
Sometimes even if you have IP assigned correctly then also youtube will not open so in that case you need to open command prompt in administrator mode and run below commands:-
netsh int ip reset
netsh winsock reset
ipconfig /flushdns
ipconfig /release
ipconfig /renew
exit
After running above commands, click on Open Network and Internet Settings from the bottom right Network Icon. Click on the Properties of the Network Adapter currently in use. Then click on Internet Protocol version 4 and assign the below Google's DNS Server IP address to use:-
Preferred DNS Server: 8.8.8.8
Alternate DNS Server: 8.8.4.4 
Enable validate settings option and then click on ok to save and proceed with the changes. Finally restart your system to update the new changes.
Solution 2: Check Access through Proxy
Many times you might be using either a PAC file or proxy server to access Internet. If youtube is not allowed through proxy then also you will see "You're offline. Check your connection" youtube error on your web browser. In that case, you need to allow the youtube URL from the proxy server or from the PAC file you are using.
Solution 3: Clear Browser Cache
If you find that the network connection is good and youtube URL is also allowed through proxy then the next thing you need to do is to clear your browser cache. For example, if you are using chrome browser then you can follow below steps to clear the browser cache :-
Open Chrome Browser.
At the top right, click More .
Click More tools. Clear browsing data.
At the top, choose a time range. To delete everything, select All time.
Next to "Cookies and other site data" and "Cached images and files", check the boxes.
Click Clear data.
Similarly, if you are using any other browsers like Safari, Mozilla, Microsoft Edge etc. then there also you need to do the same and then check if you are still getting "You're offline. Check your connection." youtube error.
Solution 4: Update Your Browser & System
If even after clearing the cache, it does not work then try to update your browser and your system to the latest version and see if that helps installing any missing important updates if that is what required to be done in your System to deal with the error.
Solution 5: Check for any App Blockers
If you are a kid then many times your parent will block the youtube URL through any local application or firewall or through any such security applications that prohibits you from accessing the youtube URL. In those cases, you need to check with your parent to allow the access.
Solution 6: Check if you are connecting any VPN
If you are using any VPN and then you are trying to access youtube then many times it so happens that you are not allowed to access youtube videos over the virtual private network. This type of cases are mostly prevalent in places like IT Organizations where client data and security along with the organization bandwidth utilizations are primary concerns. If it is indeed the case then you can disconnect the VPN and then try to access youtube. If it is not blocked at your organization level then you should be able to access.
Solution 7: Check Date and Time in Your PC
The other very important reason of getting "You're offline. Check your connection." youtube error is due to incorrect date and time set in your System. If you are in a particular local time zone then set your system date and time as per that local time zone and see if it is indeed the cause of your problem.
Solution 8: Check Airplane Mode in your Phone 
If you are trying to access youtube from your phone and getting "You're offline. Check your connection." youtube error then chances are that you might have placed your phone in airplane mode earlier and then later you forgot to remove it. In that case, you just need to disable the airplane mode and then you will see that the youtube will start working as expected.
Hope above solution helps you in solving "You're offline. Check your connection." youtube error. Please let me know your feedback in the comment box !!