In this article, we will see how to solve xbox error code 0x80190190 using 6 effective ways. Many times when you just got back from work and wanted to chill by hopping on your Xbox and playing some game with your friends, but, bam, you just got hit with an Xbox error code 0x80190190. "Not again!" you exclaim and try to resolve the issue yourself, but you fail. If that is the case, worry not, as we know exactly what you could do to fix the issue. Here we will see  6 effective ways that can definitely help you solve xbox error code 0x80190190.

Solved "xbox error code 0x80190190" [6 Effective Ways to Fix]
Also Read: Solved "java is not recognized as an internal or external command"
You must be wondering what the error code means. The Xbox error code 0x80190190 is a common issue that can occur when you're trying to access content or use certain features on your console. This includes trying to join servers or the Xbox party chat.
Recently, Xbox users have been facing an error while trying to play "Personal 5 Royal". The error does not cause the game to crash, but it causes the user to disconnect from the game and appears again when the user tries to reconnect. Sometimes, this error could also occur when you try to update your Xbox one console software.
The error can be frustrating, but fortunately, we have listed 6 easy steps for you to use to resolve it. The error can be a result of more than a few reasons, but this error does not indicate that your Xbox is faulty. Instead, it might be a result of your internet connection, Xbox servers, or an outdated software version.
How to fix it ?
In this article, we'll discuss six effective methods you can use to fix error code 0x80190190 on your Xbox. These methods include restarting your console, checking your internet connection, clearing your cache, resetting your network settings, checking for updates, and contacting Xbox support for further assistance.
Fix 1: Restart your Xbox
The easiest way to resolve the error code 0x80190190 is to simply restart your Xbox. Sometimes, a simple restart can help resolve issues with your console and get it working correctly again.
To restart your Xbox, hold down its power button until the power light turns off. The next step is to unplug your Xbox's power cable and wait at least 10 seconds before plugging it back in and turning the console back on. If the error persists after restarting your console, you can try some of the other methods listed below.
Fix 2: Check your Internet connection
Xbox error code 0x80190190 can also be caused by problems with your internet connection. If your internet connection is slow, that might be the culprit. In the case where your internet connection is fast on other devices but not on your Xbox, use a LAN cable. We can't stress this enough, but a LAN cable is the best way to go for gaming. Wired connection ensures that you can utilize your router's bandwidth effectively. This eliminates lag and ensures that your connection does not drop out every few minutes.
To check your connection's status on your Xbox, go to the "General" tab in the "Settings" menu and select "Network settings".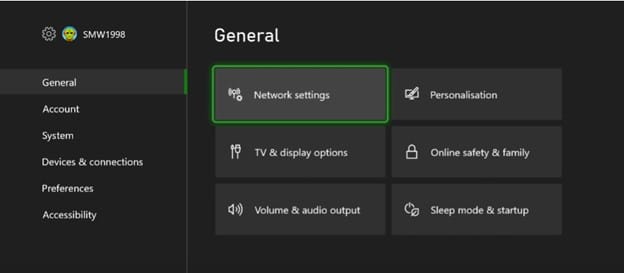 Here, you'll be able to see different tests, which you can run to test your connection. In this case, click on "Test network connection".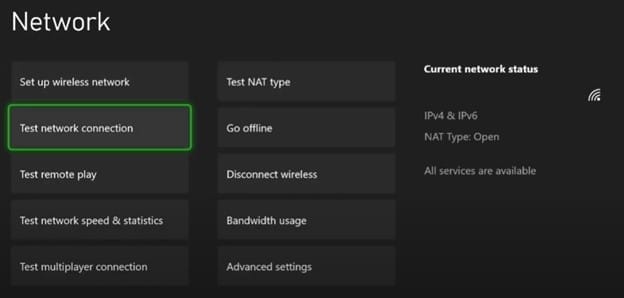 Moreover, you can also try to test your network by trying to access the web or by watching YouTube videos. This should give you a fair insight into how well your internet is working.
Fix 3: Clear your cache
Clearing your cache can also help resolve issues with your Xbox, including Xbox error code 0x80190190. The cache is a temporary storage area where your console stores data and files to help speed up specific processes. Over time, the cache can fill up and cause problems with your console. To clear your cache on an Xbox One, there is no menu option, and you will have to do it the old-fashioned way!
Turn your Xbox off by pressing and holding the power button for 10 seconds.
Next, unplug the power cable from the back of the Xbox.
Leave the Xbox be for a minute and then reconnect the power cable.
Turn on the Xbox after a minute.
Your cache should have cleared out now and chances are your Xbox is running faster too, killing two birds with one stone!
Fix 4: Clear your MAC address
If clearing your cache doesn't resolve the issue, you can try resetting your MAC address. Resetting your MAC address can help resolve problems with your internet connection and get your console working correctly again.
To reset your network settings on your Xbox, go to the "Network" tab in the "Settings" menu and select "Network settings".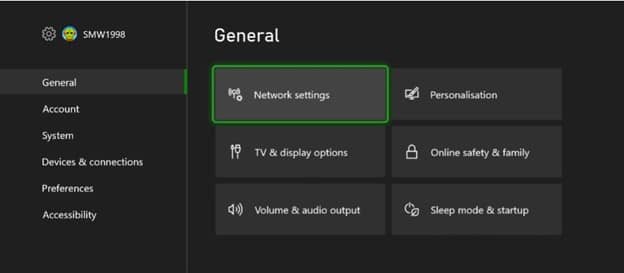 Then, choose "Advanced settings" and select "Alternate MAC address".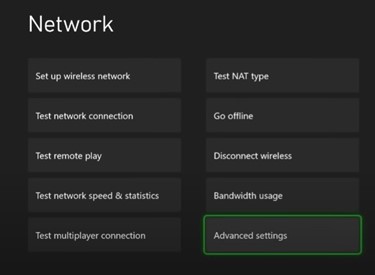 Hit "Clear" and it will then ask you to restart your Xbox.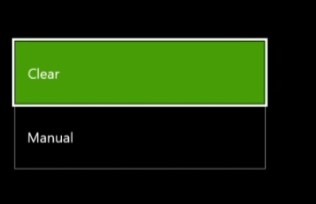 This will reset all your network settings to their default values, which can help resolve issues with your internet connection.

Fix 5: Check for Updates
Make sure that your Xbox is running the latest system update. System updates can fix bugs and other issues with your console and installing the latest update can help resolve xbox error code 0x80190190. To check for updates on your Xbox, go to the "System" tab in the "Settings" menu and select "Console info".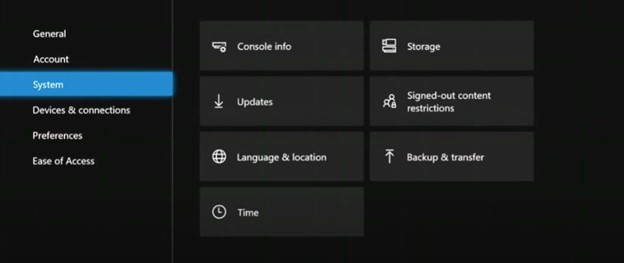 Here, you'll be able to see if any updates are available and install them if necessary.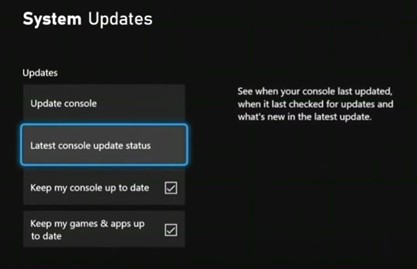 Fix 6: Reinstall the Game on Xbox
If your xbox error code 0x80190190 still has not been resolved, there is one more step that you could try to fix the issue. This requires you to reinstall the game itself and this method should only be used in cases where the error pops up while playing a specific game. In these cases, chances are that the issue is being caused by your game's files.
You may want to reinstall a game on Xbox if you are experiencing issues with the game, such as crashes, freezes, or errors. Reinstalling the game can sometimes fix these issues by replacing any corrupted or missing files that may be causing the problem.
You may also want to reinstall a game if you have recently updated your Xbox. These changes can sometimes cause conflicts with installed games and repairing the game can help to resolve these conflicts. To uninstall a game on Xbox, use the following steps:-
Press the Xbox button on your controller and select "My Games & Apps".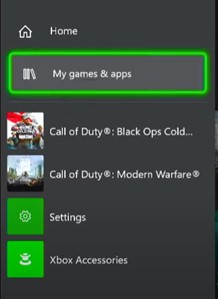 Hover over the game you want to reinstall and click on the start button.
Select "uninstall" on the next window.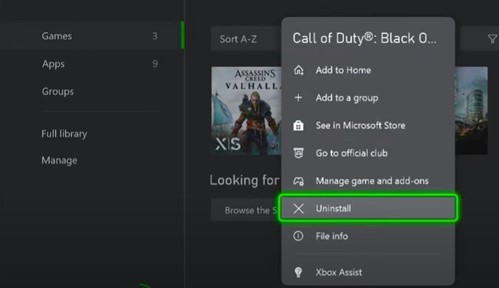 To Reinstall the game, follow the steps below:-
Go back to "My Games & Apps"
Select "Full Library" and then "All owned games"

Highlight the game you want to install and click on "install". Voila, you are done!
This process should allow you to reinstall your game and will ensure that all of your game files are intact. This method should resolve most, if not all issues, in the case where the issue is not your internet, but the game itself. If the issue reappears after following the steps mentioned above, you may need to contact Xbox support for further assistance. You can also check more about this error on xbox support official website.
Summary
All in all, these methods to fix xbox error code 0x80190190 should work for most people and will allow you to finally look forward to the game you have been looking to play. We know how bothersome it is when you come back home after a long day and just want to relax but Microsoft hits you with another bug, which is why we compiled a list of comprehensive techniques to fix the xbox error code 0x80190190.