In this article, we will see how to use Yggdrasil discord bot and the different yggdrasil bot commands with examples. Bots have become an integral part of modern computer applications, helping to automate various tasks and providing assistance to users. Discord, a popular communication platform for online communities and gaming, also makes use of bots to enhance the user experience. These Discord bots can provide a range of activities to engage the users.
Yggdrasil is one such Discord bot that offers a variety of fun and entertaining features for users. With Yggdrasil, your Discord server can be transformed into an interactive and enjoyable environment. From gaming commands and racing, to pranks and sound effects, Yggdrasil is a complete suite for making a server an enjoyable virtual space.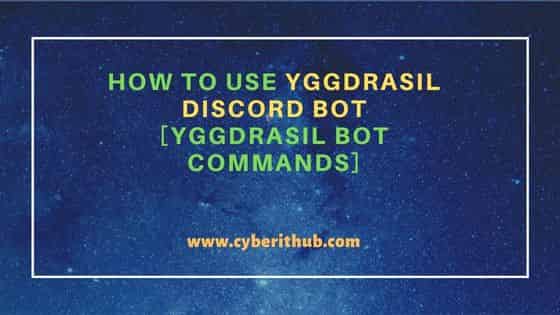 How to Use Yggdrasil Discord Bot [Yggdrasil Bot Commands]
Also Read: How to Use Dank Memer Discord Bot [Dank Memer Bot Commands]
Yggdrasil Bot is designed to provide entertainment. Adding it to a Discord server can make chatting more engaging and fun. Here we will the steps to add yggdrasil discord bot and then we will go through all the important features that can be used to perform various fun filled activities.
How to Add Yggdrasil Discord Bot
To add Yggdrasil bot to your discord server, you just need to follow below two simple steps:-
Step 1: Adding the Bot
To install the Yggdrasil Discord bot, you will need to perform a few simple steps. First, visit the ygg.fun website or Google Yggdrasil bot and click on the first link. You will be greeted with this homepage.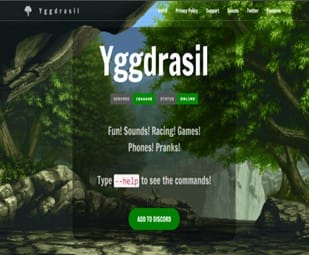 Click on the "Add to Discord" button and you will be redirected to the permission interface. Log in to your Discord account if you're not already logged in, and then select your server.
Step 2: Authorizing Permissions
Make sure you've checked all the permissions and then click "Authorize".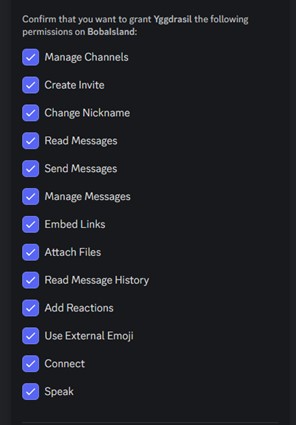 Once you give it the necessary permissions, the yggdrasil discord bot will be added to your server and you will be ready to start using it. To confirm permitting access to the bot, you will need to prove your identity by solving the captcha.
Congratulations! You have now successfully added the Yggdrasil bot to your desired Discord server. Now that it is ready to use, you will need to open Discord and navigate to the server where the bot has been added. Once you are in the server, you will be able to view the bot in the list of members.
You can then interact with the bot by sending it direct messages or by mentioning it in a channel. You can then enter commands in the message area of the text channel to use the various features offered by the bot. All members added to the server can access the various commands offered by Yggdrasil bot.
Features of Yggdrasil Discord Bot
The Yggdrasil Discord bot has a variety of features that make it an ideal addition to your Discord server. It offers a wide range of activities to engage users, such as gaming commands, racing, pranks, and sound effects. Here's a detailed list of all the command offered by Yggdrasil bot.
a) Shipping
Shipping two people is a term used to express a desire for two people to become a couple. It is often used in popular culture to refer to fictional couples in books, television, and movies. It can also be used in real life, to express a desire for two people to start a romantic relationship. The "-ship @username @secondusername" command offered by Yggdrasil bot enables users to find out if two people would make the perfect couple. It uses a unique algorithm to assess the compatibility between two individuals and generates a score out of 100.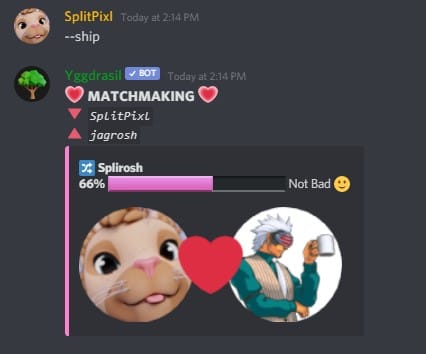 b) Racing
Using the Yggdrasil bot, you can have a thrilling race with your friends right within the Discord chat. The bot offers a vast selection of cars for you to choose from. If a car is not specified, you can also get a random car out of your garage. To join a race using the Yggdrasil bot, simply use the command "--race [car]".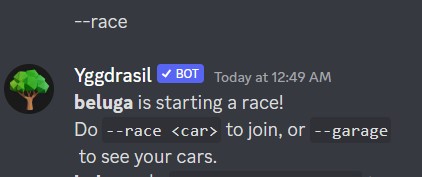 If you want to check out the cars that are currently present in your garage, use the --garage command, where you can find detailed stats and descriptions for every car in your collection. You can also see how your cars compare to the cars of your friends and challenge them to a race.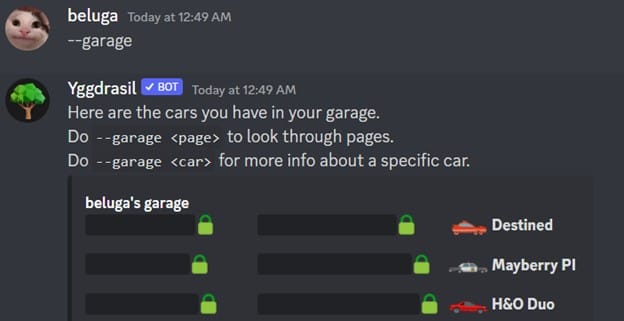 c) Fidget Spinners
Remember the fidget spinner craze from the late 2010s? All the cool kids had them, and everyone was trying to get the longest spin out of them. You can revive that tradition in Yggdrasil bot.
To start using, type "--spinner [type]" into the chat to spin your fidget spinner. Choose a color from the list of available spinner types, such as Red, Orange, Yellow, Green, Mint, Blue, Purple, and Pink, to select the one you want to spin.

Yggdrasil bot keeps track of the scores on a scoreboard which you can view by typing in the command "--spinner scores" for the current high scores. Scores are only valid for a few hours, so keep trying and you may just make it to the top of the leaderboard!

d) Death Battle
Engage in an intense, competitive match against your friends or adversaries to determine who is the ultimate victor! You can easily initiate the battle by simply typing --deathbattle @username in the chat and let the ultimate death match commence! No matter the outcome, you'll be sure to have a thrilling, captivating experience as you battle it out to determine the winner.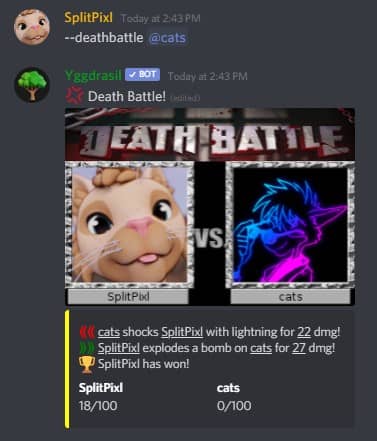 e) Soundboard
One of the more fun features of Yggdrasil bot is the ability to generate sounds by just typing out a command. Here's a list of sound commands:-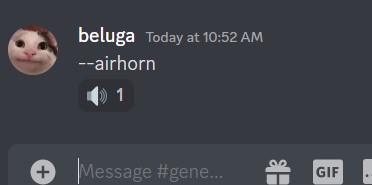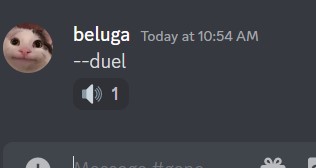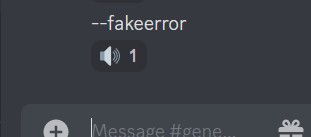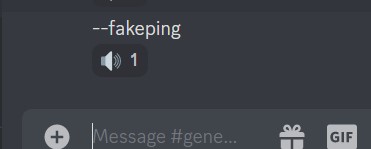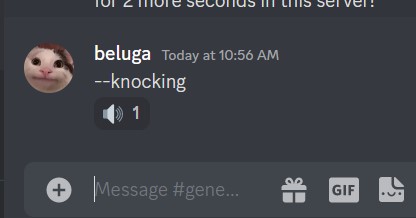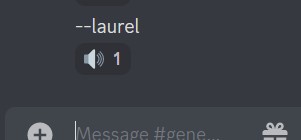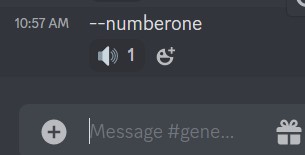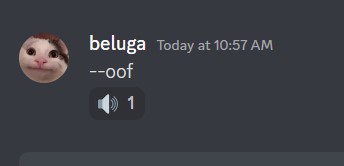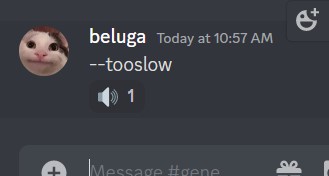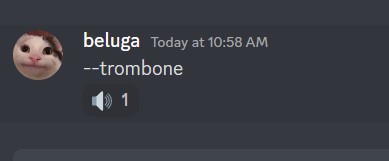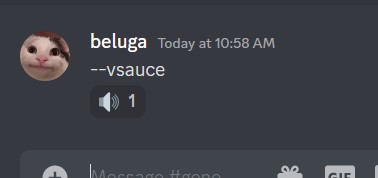 f) Cross-Server Phones
One of the most useful and versatile features of the Yggdrasil bot is the ability to chat with people who aren't necessarily added on the same server. Think of it as a literal cross-server phone! With this, you can stay connected with anyone, even if they are not part of your server. It's like having a phone line where you can chat with anyone from anywhere. Yggdrasil also offers a variety of phones that you can use to make calls with.
--speakerphone for broadcast messages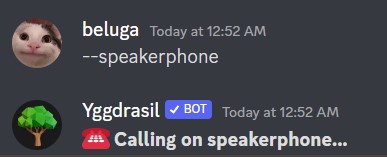 --userphone for private conversations

--eyephone for visual calls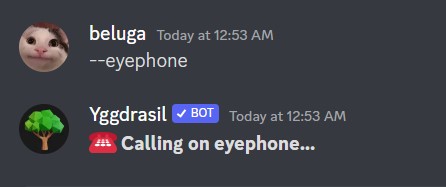 --flipphone for reversed audio
--scramblephone for scrambled audio

--fuwwyphone for encrypted calls.

When you're ready to hang up, just use the same command you used earlier to pick up the phone and then your conversation will be disconnected. With Yggdrasil, you can keep in touch with anyone, no matter how far apart you are.
g) Information about the Server
Yggdrasil bot can be used to find information about the server, its members, the bot, and more! Try these commands: --avatar @user, --serverinfo, --userinfo @user, --about, --ping, --invite.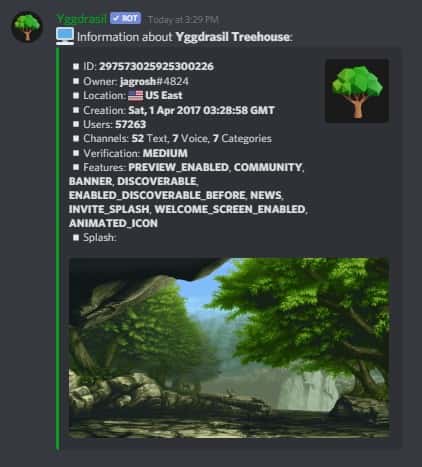 More Fun Commands
Yggdrasil bot offers plenty of engaging commands for additional fun use-cases. Here are some miscellaneous commands to use:-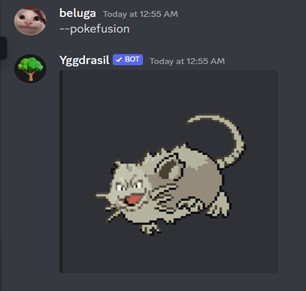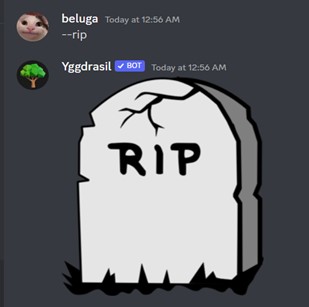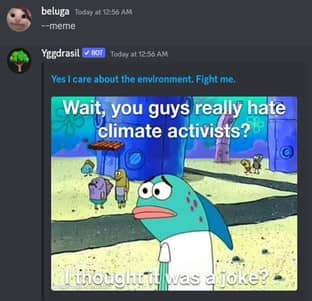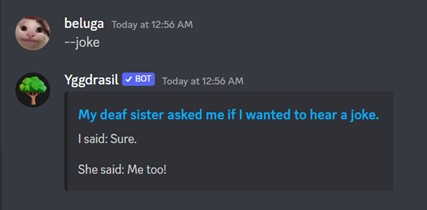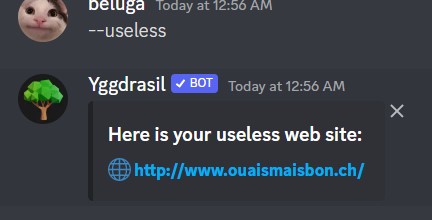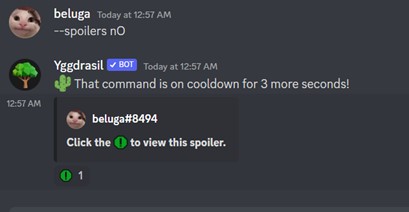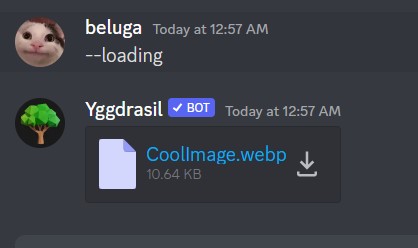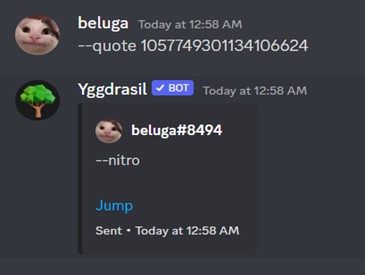 You can also look at pictures of cute animals using below commands:-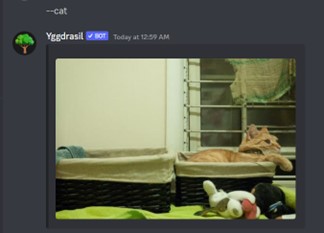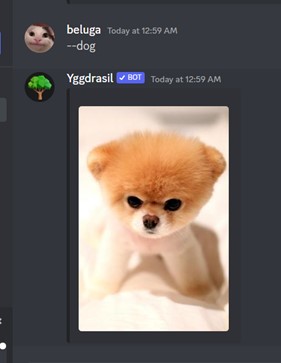 Conclusion
Yggdrasil is an amazing Discord bot that comes with a vast selection of entertaining features, perfect for those looking to bring some fun and excitement to their Discord server. From gaming commands and racing to prank commands and sound effects, Yggdrasil truly has something for everyone.
Some of the most popular features of Yggdrasil include shipping two people, racing, fidget spinners, death battles, a soundboard, cross-server phones, and various information commands. Whether you are looking for a way to add some extra fun to your server or just want to have a bit of fun with your friends, Yggdrasil is the perfect bot for you!