Although large internal hard drives are offered by most desktop and laptop computers, the storage space could run out quickly especially when they are used for game storage. In addition to this, you also need to back up some sensitive and important data (such as your business materials) for secure data retention or data loss prevention. In both instances, using an external hard drive like WD My Passport is of great necessity.
WD My Passport is an external hard drive developed and released by the Western Digital company coming with six main editions, including Studio, Elite, Essential, Essential SE, Essential for Mac, and Essential SE for Mac. Being portable, lightweight, cost-effective, secure, and with high transfer speed, WD My Passport has become one of the most commonly used external storage devices.
However, there may be a situation where the WD My Passport drive is read-only on Mac when being connected to the Mac computer, stopping you from deleting, renaming or editing files stored on it. So, how to make the WD My Passport HDD readable and writable on Mac? Given different scenarios, we will show you some instructions to fix WD My Passport read-only on Mac.
Feasible Solutions to Fix WD My Passport Read-Only on Mac
When inserting your WD My Passport drive into the Mac only to find you have no write access to it, you should take the following situations into consideration:-
If the WD My Passport hard drive is set up as read-only.
If you are connecting an NTFS-formatted WD My Passport to your Mac.
If your WD My Passport hard drive has formatting errors.
The aforementioned scenarios can cause your WD My Passport to be readable but not writable on macOS. And to make it more straightforward, the read-only permission setting, incompatible NTFS file system, and formatting errors can lead to a non-writable WD My Passport on macOS. Then, let's take a look at each scenario and the corresponding troubleshooting tips.
Issue 1: Your WD My Passport Drive Has a Read-Only Access Permission
If a WD My Passport drive is set with a read-only permission limit, Mac will restrict you from accessing the write-protected WD My Passport external HDD automatically. Hence, you need to make some changes to ignore permissions on Mac to enable WD My Passport write support.
Step 1: Make your WD My Passport disk hook up to your Mac machine.
Step 2: Find the WD My Passport icon from the Mac desktop and then right-click on the drive to select the Get Info option.
Step 3: Locate and expand the Sharing & Permissions option to see if your disk is set up as read-only.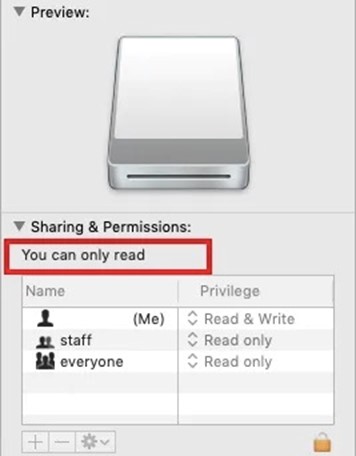 Step 4: Click the Lock icon situated in the lower-right corner and authenticate your user information by inputting the username and password.
Step 5: Tick Ignore ownership on this volume and click the gear button above this option to select Apply to enclosed items….

Step 6: Click OK to make a verification of your changes, move to the Privilege column, and choose Read & Write.
Step 7: Check if the WD My Passport read-only on Mac issue gets resolved.
Issue 2: The WD My Passport External HDD Is Formatted as NTFS 
As a proprietary file system released by Microsoft, NTFS is not fully supported by macOS. Thus, if you are connecting an NTFS formatted WD My Passport to your Mac, you just have read-only access to this drive, which will result in any writing operations you made being denied, including file addition, deletion, editing, renaming, and so on.
To deal with such an issue, go to Launchpad > Other > Disk Utility to confirm the file system information. If the WD My Passport HDD is shown as Windows NT file system in Disk Utility, you can try a third-party NTFS for Mac solution Microsoft NTFS for Mac by iBoysoft to help you out of the non-writable WD My Passport problem.
iBoysoft NTFS for Mac doesn't only serve as an NTFS for Mac driver but also a disk manager to help Mac users read and write NTFS disks on macOS as well as manage non-NTFS disks. After a successful installation of this utility, you can easily make changes on your NTFS formatted WD My Passport on Mac without any write limits.
Step 1: Go to iBoysoft's official website to download iBoysoft NTFS for Mac and follow the installation wizard to complete the installation.

Step 2: Insert the read-only WD My Passport into your Mac device and launch this NTFS for Mac utility. After detecting the drive, iBoysoft NTFS for Mac will get this drive mounted automatically.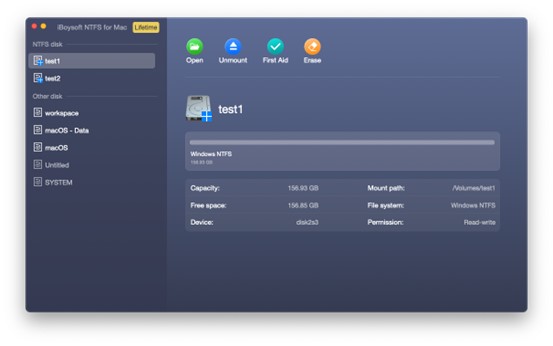 Step 3: Write to your NTFS WD My Passport drive since the write support has been enabled.
Issue 3: The WD My Passport Drive Contains Formatting Errors or Goes Corrupt  
Another possible scenario contributing to WD My Passport read-only on macOS could be the formatting error that usually indicates a corrupted drive. To make your corrupted WD My Passport return to normal, First Aid in Disk Utility can work to get rid of this formatting error.
Step 1: Click the Finder icon from Mac Dock, choose Applications from the left sidebar, and then navigate to Utilities > Disk Utility to launch Disk Utility.
Step 2: Select the WD My Passport drive attached to your Mac from the left panel and click First Aid from the top menu to open the repair dialogue box.
Step 3: Hit the Run button to run First Aid and click the Done option until the repair process comes to an end.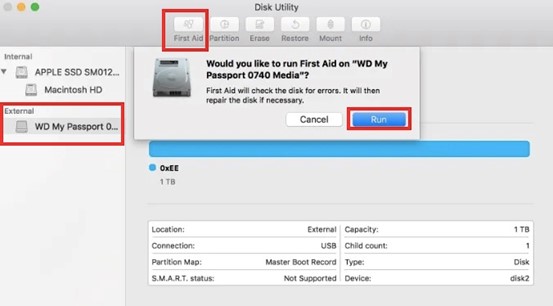 If unluckily, you fail to repair the damaged WD My Passport HDD using First Aid and still have no write access to the drive, you must realize that this WD drive gets seriously damaged. Under this circumstance, performing WD drive erasure may take effect.
Final Verdict
Knowing the main cause resulting in a read-only WD drive helps to find the corresponding solution. Hope this post can always come in handy.